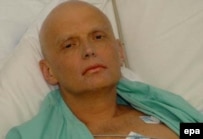 Litvinenko knew too much and he talked too much and the Russians had to make him disappear.
A. Litvinenko:
In reply to this question I can definitely say that the center of global terrorism is not in Iraq, Iran, Afghanistan or the Chechen Republic. The terrorist infection is spread worldwide from Lubyanka Square and the Kremlin cabinet. And until the Russian special services are outlawed, dispersed and condemned, the terrorism will never stop: bombs will blow up and blood will be shed. Terrorism has no expiration date....
I would like to repeat, that all the terrorists, whom I have named, were supported by the heads of the Soviet and Russian special services - Yuri Andropov, Vladimir Putin, Nikolay Patrushev and others. These people are the main terrorists.... And until we condemn them ... global terrorism will continue.
http://www.jrnyquist.com/nyquist_2005_0813.htm
Litvinenko fled Russia in 2000 after claiming that the Federal Security Service, the main KGB successor, was behind the deadly September 1999 apartment-building bombings in Moscow and other cities. He became a British citizen in October 2006.
By
A British security service agent has told the BBC that the Russian state was most likely involved in the 2006 poisoning death of former Russian security officer Aleksandr Litvinenko in London.

The unidentified agent told BBC's "Newsnight" program on July 7 that there were "very strong indications it was a state action." The agent added that "it was the Russian state, not a rogue element."

The allegation went further than any official statement on the matter to date. British investigators have long said they suspect former KGB agent Andrei Lugovoi of the murder and have sought his extradition -- a request that Moscow has steadfastly refused, causing Russian-British relations to deteriorate to a post-Cold War low.

http://www.rferl.org/content/Russia_Backed_Litvinenko_Murder_BBC_Reports/1182340.html