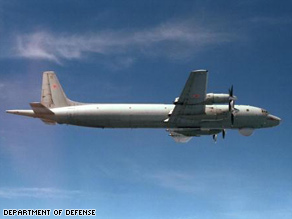 You would think that this would be reported all over the news instead of CNN burying it on their website...
WASHINGTON (CNN)
-- Russian military aircraft flew just 500 feet over two U.S. Navy ships this week as the ships participated in a joint military exercise with South Korea in the Sea of Japan, according to U.S. military officials.
On Monday, two Russian Ilyushin IL-38 maritime patrol aircraft, known as "Mays," overflew the U.S. aircraft carrier Stennis while it was in international waters in the Sea of Japan.
The Russian aircraft flew about 500 feet over the ship, lower than other flights the Russians have made over U.S. ships in the past year.
The USS Stennis was about 80 miles east of Pohang, South Korea, participating in the joint military exercise when the flyover occurred.
On Tuesday, the USS Blue Ridge, a lead command and control ship, and the Stennis were overflown by two Russian "Bear" long-range bombers multiple times, according to U.S. military officials.
The Bears overflew the ships at about 2,000 feet, officials said.
http://www.cnn.com/2009/WORLD/asiapcf/03/19/us.russia.planes/index.html