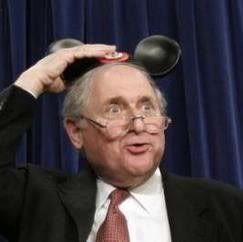 This is why we are doomed, because we have delusional, ass-kissing liberals like this in Washington. This POS should resign.

Who does he think is building Iran's nuclear plants???? DUH.
WASHINGTON — If the United States and Russia set aside their differences on missile defense and began cooperating against Iran they could make a decisive difference in weakening Iran as a missile threat, a leading Senate Democrat said Monday.
Sen. Carl Levin, D-Mich., chairman of the Senate Armed Services Committee, told a defense conference that missile defense will be at the center of a new set of security talks between Washington and Moscow and could become "a positive political tool" rather than an impediment to better U.S.-Russian relations.
Russia strongly opposes a plan that the Bush administratino crafted, and the Obama administration is reviewing, to place U.S. missile interceptors in Poland and an associated radar in the Czech Republic. The stated purpose is to defend Europe against an anticipated Iranian long-range missile threat.
Notably, Levin did not suggest that the Obama administration bargain away the Bush-era plan for extending U.S. missile defenses to eastern Europe. There has been speculation that President Barack Obama would offer to scrap that plan in return for Russian help in persuading Iran to end its nuclear program.
Levin argued instead for the start of U.S.-Russian cooperation on defenses against Iranian missiles.