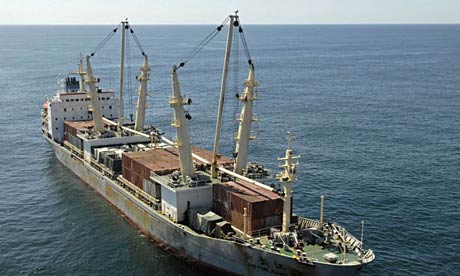 STAGED.....

They want the US to think they are enemies....

Do not fall for it....


BEIJING (Reuters) - China called on Russia on Thursday to explain how a Chinese cargo ship sank in Russian waters after reports it was fired on by the Russian military.
Seven Chinese sailors were missing after the "New Star" sank on Saturday in stormy seas off Vladivostok and after a Russian warship shot at least 500 rounds into it, the official China Daily newspaper said, quoting a Chinese-language paper which in turned quoted a Russian newspaper.
The "New Star" was held at the Russian port of Nakhodka earlier this month, suspected of involvement in smuggling, before it left without permission last week, the China Daily said.
"China has already made representations to the Russian side," Chinese Foreign Ministry spokeswoman Jiang Yu told a news conference.
"We hope they continue with the search and rescue operations for the missing sailors and clarify the reason (for the incident) as soon as possible."
China says three Chinese crew members were rescued and seven were missing.
http://uk.reuters.com/article/worldNews/idUKTRE51I1VO20090219