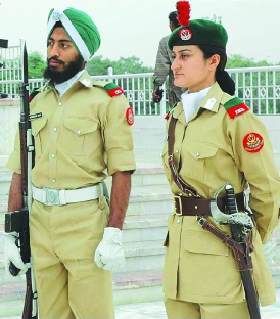 The remarks by Pakistan's foreign minister, Shah Mehmood Qureshi, who also insisted he would not hand over any suspects in the Mumbai attacks, come amid mounting tensions between the nuclear-armed neighbours.
India has said it is keeping all options open following last month's carnage by the Mumbai terrorists, who killed more than 170 people.
"We do not want to impose war, but we are fully prepared in case war is imposed on us," said Mr Qureshi.
"We are not oblivious to our responsibilities to defend our homeland. But it is our desire that there should be no war."
Indian officials say the hardline Lashkar-e-Taiba (LeT) group, which is based in Pakistan despite being banned by the government, is behind the bloodshed, and Indian media have suggested there could be Indian strikes on militant camps.
Mr Qureshi said he was sending "a very clear message" that his country did not want conflict with India.
"We want friendship, we want peace and we want stability - but our desire for peace should not be considered Pakistan's weakness."
http://www.telegraph.co.uk/news/worldnews/asia/pakistan/3688288/Pakistan-Were-ready-for-war-with-India.html